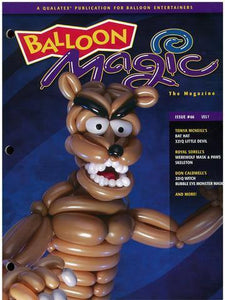 Balloon Magic Magazine #66 - Werewolf!
Issue # 66 is a scary treat! Includes spooky figures from Tonya McNeill, Royal Sorell, and Don Caldwell. Also included is a recap of Twist & Shout 2011, Qualatex color quest contest winners, and a spotlight on David & Shana Brenion's modern nostalgia.

Table of contents include: Tonya McNeill's bat hat and 321Q little devil; Royal Sorell's werewolf mask & paws and skeleton; Don Caldwell's 321Q witch and bubble eye monster mask.
Spotlight: David & Shana Brenion of Ventura, CA








---
We Also Recommend