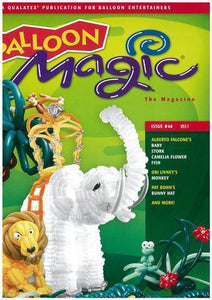 Balloon Magic Magazine #48 - Wild Safari
Pioneer launches the "Marvin Hardy Scholarship Fund".  This scholarship for entertainers is open to balloons entertainers all over the world. It will provide attendance to selected industry events in the U.S. and internationally.

 Alberto Falcone is the big giver for this issue.  Alberto shares with us his adorable baby, a life-size stork, an elegant camellia flower and a fish that uses 321 bee bodies. 
Ori Livney of Kiryat Bialik, Israel is the spotlight feature.  Ori talks about making an impression, advertising online, and building a brand.  Ori also shares with us his quick and easy monkey. 
Pat Bohn gives us a really great bunny hat just in time for Easter and Patricia Bunnels Country Critters DVD is reviewed.


---
We Also Recommend