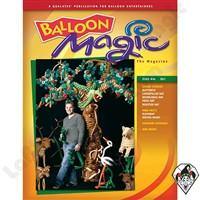 Balloon Magic Magazine #45 - Garden of Eden
Julie Conner is the new editor and this issue is dramatically colorful.  The picture on the front cover is from the cover of SLEEK magazine in Berlin. It is Niko Fric's life-size Garden of Eden.
 Debbie Stevens explains four fancy hats and a butterfly on a stick. Her designs have lots of character. They are worth having on your list.  Niko Fric is the big interview. His is a great story about a hard working, creative entertainer from Slovenia who has earned a top spot in the balloon world. He shows how to make a cute 3-160 elephant and a really great woven heart using 5-260s. You absolutely want this heart.

There's pictures of things made in the Euro Jam 2005 jam room and balloon modelling with Shirley Ray #3 is reviewed. It's an excellent issue.

Congratulations Julie.
---
We Also Recommend