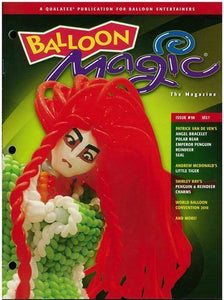 Balloon Magic Magazine #59 - Kabuki
Issue #59 starts right off describing new Qualatex Latex balloons and colors that recently come out. The issue itself is geared toward the work of Patrick van De Ven, of Apeldoorn, Netherlands, who specializes in multiple-balloon sculptures of animals.  

Patrick starts off this issue with his wearable angel bracelet, which is based on Don Caldwell's "wrist-able" concept. The polar bear is a cuddly dapper bear, which sports his own snuggly scarf.  Patrick uses a classic structure for the head of the emperor penguin, but then demonstrates his "tuck body" concept, which is a square frame that works as a base for many different figures, including bears and monsters. This penguin is very interesting looking with the tuck body, but also because of the silver, gold, white and black balloons that are used. Patrick's reindeer has a lot of character and it's even suggested changing the red nose to black so it turns into a deer who's ready to go year 'round.  Finally Patrick finishes the issue off with his large 646Q Seal pup.
Since it's the beginning of the Chinese New Year, Andrew McDonald demonstrates how to make his little tiger so everyone can celebrate the Year of the Tiger.  This 3 - 260Q figure is easy to make and pretty cute too.

Shirley Ray's 160Q Winter Charms are really cute miniature creations of a penguin and reindeer. They look great and are just the right size tucked on the side of a glass for kids parties, adult cocktail parties, or even attached to a gift.

The spotlight features the Magical Transformation of Willy Monroe of Madrid, Spain.  Willy started out in magic and juggling around the age of 10, and it wasn't long before he incorporated balloons into his act, unlike the other magicians in the area.  Willy's performances now include a mix of magic, juggling, clowning, mime, and acting with balloons, but just as important are the costumes he designs for each show.  He also most enjoys the moments in his shows that don't go as planned, because he takes whatever happens and runs with it - such as when a balloon pops. This gives him the opportunity to take the popped balloon and create a new design with it, or to reevaluate his performance to see what changes should be made.  Willy has been a consecutive winner at several of the yearly conventions, namely Twist & Shout, and Millennium Jam, and discusses how important attending these conventions are.

Show & Tell highlights some good looking creations by Sheree Brown-Rosner; Barak Dagan; Larry Moss; Holly Nagel; and Shirley Ray. 
The Event page is full of information about the upcoming World Balloon Convention, April 15 - April 18, in Dallas, Texas.
---
We Also Recommend