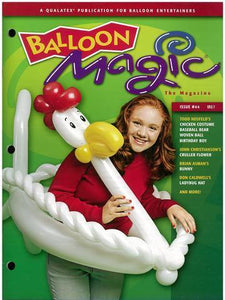 Balloon Magic Magazine #44 - MidWinter
This might be called the Todd Neufeld Issue for the four figures he teaches. Except for John Christianson's "Cruller Flower", Brian Asman's "Bunny",and  Don Caldwell's "Ladybug Hat".
 This magazine features Todd Neufeld's figures. His chicken costume will get them doing the chicken dance and his baseball bear uses five sizes of balloons. Todd makes a quick eight balloon birthday boy and an easy woven ball.

There's a Show & Tell section with a nice waiter figure made by Ken Stillman; a really nice Panda scene by Fabrizio, a balloon BBQ Grill by Dolbel, a leprechaun by Nancy Dalton, a pterodactyl hat by Fumio, and three generations of Johnson twisters under a large woven chicken hat.

The spotlight is on Guido Verhoef of The Netherlands. He thinks big and he goes for it. Guido's won lots of prizes and built quite a business. His story helps make this a fun and valuable issue of Balloon Magic.
---
We Also Recommend