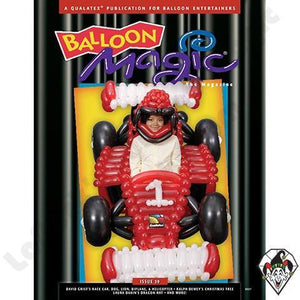 Balloon Magic Magazine #39 - On the Go!
Issue #39 features David Grist's Qualatex.com Race Car. Almost 90 balloons are used to make this hot air racer that the recipient gets into. David also shows us his highly detailed biplane, a quick and easy helicopter, his too cute dog and using the same body type as the dog, learn to make a very nice lion. Ralph Dewey shares a really neat looking Christmas tree built out of 6" hearts and a few 260's. And Laura Dakin shows us a dragon hat that is perfect for fantasy theme parties.

 Mark Verge is this issue's spotlight . Mark is a two-time top twister; he got there with hard work and dedication. The article talks about Mark's balance between birthday parties and corporate work, the perceived value of larger balloons, marketing and more. Show and Tell as always shows off some great figures from folks around the world. And the DVD 'Balloonapalooza In Outer Space' by Lorna Paris is given a good review.
---
We Also Recommend