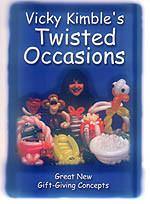 Twisted Occasions DVD
Twisted Occasions DVD
Vicky Kimble

Vicky shows you how to make a small gift into a special gift. She makes woven balloon figures to hold a gift (card, candy, car keys or a ring) and makes it even more unique and special. She explains as she twists and it's all pretty clear. An intermediate twister should be able to follow right along. This is a good DVD to make a fancy gift.

Vicky uses 260s, 160s, small hearts,small rounds, large rounds, a large blush geo, a blank DVD, pipe cleaners, poker chips, and glue dots on this DVD.
In 260s it's lime green, white, black, blush, lilac, teal, mocha, toffee, yellow, orange, gray, gold, silver, goldenrod, yellow, red, ivory, fuchsia, pink, and clear.
In 160s she uses black, pink, gray, key lime, blush, white, and red.
In small hearts she uses white, gray, toffee, pink, and red. She also uses a mocha and a gold small round, an 11 inch goldenrod and an 18 inch white, a blush large geo and a black 6 inch Link-O-Loon.

The figures include:
iPod Nano (8-260, LgRnd)
The Perfect Gift Box (7-260, 3-160)
Special Delivery Stork (8-260, 3-160, Sm Hrt, LgRnd)
It's A Gas Race Car (8-260, 4-Sm Link-o-loon)
Double Feature Popcorn Box (7-260)
Ape Over You Monkey (6-260, 4-Sm Hrt, Lg Geo, Sm Rnd)
Rub-A-Dub-Tub (9-260,160)
It's In The Bag Purse (7-260, 6-160, Sm Rnd)
---
We Also Recommend