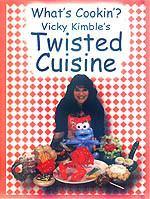 Twisted Cuisine DVD
Published 2007
Run time: 90 minutes

Vicky Kimble is a decorator/twister, so most of these figures are for decorative purposes. The DVD is well produced and Vicky is clear. She uses glue dots, rubber cement, uninflated pieces, balloon nozzles, a poker chip, pipe cleaners, straws and a variety of markers. The figures are creative and intermediate to advanced in difficulty.

The figures include:
Balloosion bacon & eggs (646, 3-260, 160)
Baby watermelon bowl (4-260, 2-160, LgRnd, SmRnd)
Bubbaloon burger & fries (13-260, 6-SmHrt, 660, LgRnd)
Veggie pizza with a twist (5-260, LgRnd)
Lobster balloonese with green beans almandine (11-260, 2-LgRnd)
Light-as-air meringue tart (3-260)
Nutty caramel apple (321B, 260, LgRnd)
Midnight snack root beer & pretzels (2-260, 4-160)
True blue sweet tooth beastie (4-260, 160, SmHrt, SmRnd, 2-SmLOL).

Vicky uses 260s in:black, yellow, lime, green, toffee, ivory, chocolate, neon violet, red, goldenrod, gray, white, mocha, clear and pale blue.
In 160 she uses: white, red, and clear.
In 646 she uses a pink.
In 660 she uses marigold.
Vicky also uses 11 inch round: green super agates, red, yellow, and mocha.
She uses green and mocha five inch rounds; toffee and white 6" Hearts; 6" black link-o-loons; and a red 321 bee body.
---
We Also Recommend