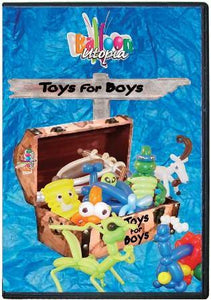 Toys for Boys DVD
This DVD goes from a one balloon T-Rex to multi balloon weapons and bugs. Half the figures use at least one 350 so they are pretty big. I like the mega sword, snake hat, and maybe a couple of other figures for line work. Most of the other figures would work at a restaurant with a little more time. The instruction is clear if you have basic twisting skills and the DVD moves right along.

Ken Stillman shows up, doing a heavy duty crossbow. Jimbo does his short, medium, long rope routine with 160s. It's not very well explained but if you do Professor's Nightmare you can figure out the moves. Mike Stillwell does a broken and restored uninflated 130 based on a broken and restored rubber band.

Contents Include:
T-Rex (260)
Mega-sword (350, 260)
Snake Hat (350, 260, SmRnd)
Magic Mike's Broken and Restored 160
Three Balloon Shield (3-260)
Airplane (4-350, 260, SmRnd Alien)
Goldfish - on fishing pole (4-260)
Train (350, 3-260, 160)
Motorcycle (3-260)
Crossbow (2-350, 6-260)
Easy Crossbow (350, 3-260)
Patriot Hat (3-260)
Billy Goat (350, 3-260, 3-160, Sm Hrt, Rubber Cement)
Praying Mantis (Blossom, 350, 2-260, 5-160, SmRnd)
Jimbo Dragon (3-260,4-160)
Fighting Amphibian - Turtle (350, 5-260, 2-160)
Sponge Guy (8-260, 160, SmRnd)
Instruction on Broken and Restored 160 and Professor O's Nightmare.

Sandy uses a lot of colors. In 260s, probably the Entertainer Assortment, the Carnival Assortment, the Traditional Assortment, and Silver would cover it.
In 160s she uses white, brown, lime green, dark blue, yellow, red, and clear.
In 350s she uses the Carnival Assortment and white.
In small rounds she uses five inch black, white and an alien print.
In small heart she uses Qualatex in white; and a lime green small blossom.
---
We Also Recommend