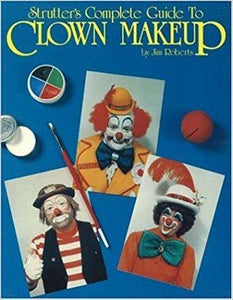 Strutter's Complete Guide to Clown Makeup by Jim Roberts
Contrary to popular belief, a proper clown face is not worn as a mask. It should be designed to compliment the natural features in the face in order to enhance the clown's expressions. In this book an award winning clown describes in detail how to design a unique clown face of your own and how to properly apply makeup that will give your clown face that professional look.

Contains tips on powdering, applying rubber and putty noses, how to handle eyeglasses, handling common makeup problems and proper makeup selection and removal. Profusely illustrated with over 100 full color photos. The information in this book is simple enough for beginners yet detailed enough for professional entertainers. Top quality book with glossy acid-free paper. Beautiful color photos of dozens of clowns depicting different facial styles and features. Excellent instruction book and reference!
 
Paperback; 8.5 x 11; glossy cover, perfect bound; 96 page count; 150 illustrations.
---
We Also Recommend