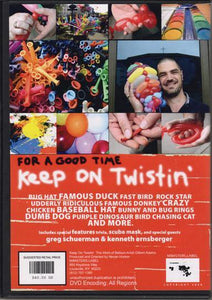 Keep On Twistin' DVD
Gilbert is clearly a working twister. The first DVD has five hats, six things and two rings that work for lines and restaurants. They are generally big and quick, using four to seven balloons. The second DVD includes a scuba mask full of water (you need a yo-yo piston pump) with a fish, a fancy ninja turtle by Ken Ernsberger, and a woven space ship by Greg Schuerman. The video, sound and instruction is good. I like his stuff.

 Includes: bug hat (4-260), famous duck hat (3-260), fast duck hat (4-260), rock star hat (6-260), udderly ridiculous at (4-260, SmHrt), famous donkey (5-260, SmHrt), crazy chicken (5-260, 2-160), baseball hat (4-260, SmRnd), dumb dog (4-260), purple dinosaur (5-260, SmHrt), bird chasing cat (6-260, 160, SmRnd) bug ring (3-160), rabbit ring (3-160), scuba mask (5-260, 160, 2-SmRndEyePrint, LgRnd), ninja turtle (lots of 260), space ship (lots of 260).

 In 260s he uses: green, orange, white, blue, pink, red, yellow, blush, brown, black, purple, silver and clear. In 160s he uses: orange, white, red, black and blue. In small hearts he uses: red and pink. In small rounds he uses: red, lime green alien, eyeball and white. He also used 11 inch Round in Clear.
---
We Also Recommend