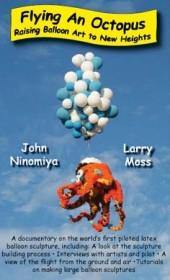 Flying An Octopus
A 23 member team of balloon artists, an eight member flight crew, and countless community members were needed to launch the first ever piloted latex balloon sculpture. Nearly 20,000 animal balloons were twisted together by the hand-picked team of artists from around the US and Canada to create the Fantastic Flying Octopus. Several thousand people showed up to watch the construction and launch of the craft, powered by the wind and 10,000 cubic feet of helium. Challenges to be overcome included building the sculpture in a barn with a gravel floor and launching in the afternoon sun, both of which are natural enemies of balloons. Approximately 700 person hours went into the construction of the octopus over five days to complete the project before the first balloons deflated.

This first collaboration between pilot John Ninomiya and artist Larry Moss was a success. The entire week-long project, from the inflation of the first balloon through the successful launch and landing of the sculpture and pilot can be seen in this documentary.

More info on the sculpture can be found at the Fantastic Flying Octopus web site.


---
We Also Recommend