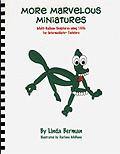 Even More Marvelous Miniatures by Linda Berman
Even though 160 balloons are the easiest to twist because of their size, don't let that fool you into thinking the finished designs are going to be your basic simple figures.  Linda's detailed instructions for these 12 multi-balloon sculptures are for intermediate to advanced twisters.
Linda has included an envelope containing pipe cleaners, drinking straws, coffee stir sticks, and wiggle eyes, which she uses with all these figures.  The text instructions are good and complete, and the colored drawings are very accurate. Good job Linda!

Contents Include: 
Envelope of supplies
Basic Twists
Chain Twist
Lion
Pinwheel
Propeller Plane
A Dog and His Best Friend
Spotted Dog
Fat Cat
Computer Nerd
Sherlock Shark
Alien Amphibian
Sea Serpent
Runaround Rooster.

Full size, soft cover, comb, 25 Pages.Published 2000.
---
We Also Recommend