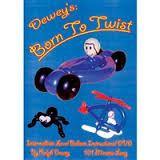 Dewey's Born to Twist DVD
Published 2006 
Length: 100 minutes

Ralph is an excellent teacher. The camera work is excellent. The figures are exceptionally cute and fancy enough to impress, but quick enough to do at a table. Some of them will work for a line. Ralph's Sharpie work is easy and expressive. I like Ralph and I like this DVD.

Ralph uses 160s in orange, red, and white.
In 260s he uses: black, white, red, lime green, goldenrod, yellow, blue, orange, and pink.
In 360 he uses red.
In five inch round he uses: black, yellow.
In six inch hearts he uses: white, red, pink and mocha.

The figures include:
Bug-Eyed Spider (2-260, 2-SmRnd, SmHrt)
Red Bird (2-260, 160)
Frog (260, SmHrt)
Mini-Bike (6-260)
Saxophone (260, 360, Med Rnd)
Helicopter with Pilot (4-260, 3-160, SmHrt)
Spider-like Man (2-260, SmHrt)
Devil (2-260, SmHrt)
Excalibur Sword (3-260)
Black Duck (4-260)
Vulture (6-260, SmHrt)
Race Car (2-260, 4-SmRnd)
---
We Also Recommend