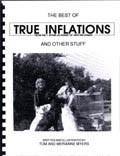 Best of True Inflations by Tom Myers
This book consist of a compilation of all the how-to articles, balloon tips, and letters from home that were featured in the first 15 issues of the T.Myers Magic newsletter. We have even updated articles, when possible, to give you the very latest improved information.
In addition we have included some articles written for other publications that many of you have not seen. Articles like Making Magic Entertaining, Baby Magic, Bear Ears and Poodle Tails, and more. So stop leafing through those back issues for insurance information or directions for the balloon Brontosaurus. It's in here!

Full size, soft cover, comb bound, 93 pages.
---
We Also Recommend