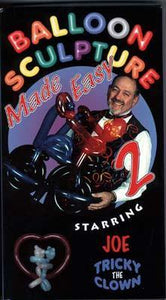 Balloon Sculpture Made Easy #2 DVD
Published 1999
30 minutes
Joe Lefler moves right along with this tape. It's only 1/2 hour but it has a lot of good stuff. He uses a variety (260,160, bee, heart, geo) of balloons to make pretty quick multi-balloon figures. I like Joe's stuff. A good number of these figures would work with a line. The production value of the tape is excellent. He's organized and doesn't waste your time but you will have to pause the tape to work along with him. He expects you to know the twists explained on his first tape. He kind of skims over the "pop twist series" on this tape. (There is a more complete explanation in Vol. 3.) This tape has a lot of information at a good price.

  Includes:
Bumble Bee on Geo Flower
Fishing Pole With Fish
T-Rex
Basket of Flowers With Teddy Bear
Teddy Bears Hugging On A Heart
Cartoon Figures - Duck, Stork With Bassinet, and Little Bird
Rainbow
Motorcycle With Rider
Christmas Wreath With Candle, Bow, and Berries.
---
We Also Recommend