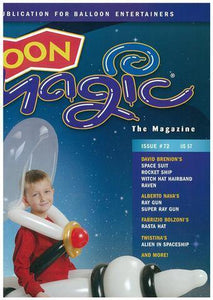 Balloon Magic Magazine #72 - Rocket Ship
In this issue, see amazing new sculptures from David Brenion, Alberto Nava, Fabrizio Bolzoni & Twistina.  Also includes coverage of Twist & Shout 2013, and why to become a CBA.

Table of contents include: David Brenion's space suit, rocket ship, witch hat hairband, and raven; Alberto Nava's ray gun and super ray gun; Fabrizio Bolzoni's rasta hat; Twistina's alien in spaceship, and more!
Spotlight:Lily Tan of Singapore


---
We Also Recommend