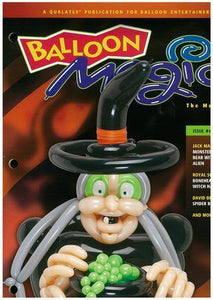 Balloon Magic Magazine #68 - Mesmerizing Witch
In this issue, get ready for Halloween with some spooky creations from Jack Mattson, Royal Sorell, & David Brenion. Read about Florida Super Jam 2012 and see winners from Twist & Shout 2012.

Table of contents include: Jack Mattson's monster grabber hat, bear witch, and alien; Royal Sorell's bonehead hat and witch hat; David Brenion's spider bracelet and much more!
Spotlight: Nancy Dalton of Sunnyvale, CA








---
We Also Recommend