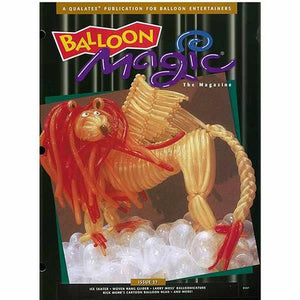 Balloon Magic Magazine #27 - Lions in Winter 2001
Another fine issue. The award winning work of David Grist, CBA, from Workshop England is the spotlight twister.

 Bruce Kalver gives us "Food For Thought" with his insight on restaurant work.

 Marvin Hardy shows us a "figure skater" and "hang glider" that are multi-bubble and nicely detailed, but not too difficult. Marvin also shows us the "professor's nightmare", giving it a different twist by using 160's instead of ropes.

 The cover features the first place figure for non-round balloon sculptures at the IBAC 2001. And that's just the start of the IBAC 2001 coverage in this issue.

 Larry Moss and Rick Mohr get some face time in sharing their versions of "Cartoon Balloon Heads".
Larry's instructional compact disc "Balloonicature" is also reviewed.
---
We Also Recommend