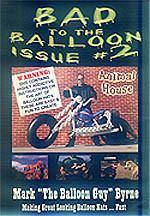 Bad To the Balloon Volume 2 DVD
Published 2007
Run Time: 1 hour 22 minutes


This DVD includes 13 Balloon Hats, mostly using 3 balloons, which are quick and great for line work. The production value is high in terms of location shots, music, and everything being in focus including a few close ups.

This DVD is great for beginners with no language barriers. Mark demonstrates what the sculpture should look like when done at full speed then slowly breaks down the elements in the teach-in section. The twist menu goes over every twist and which sculpture it is used in. It is shown at full speed and slowed to 50% speed on the second view. Mark even teaches a speed knot technique.

The figures include:
Monkey In A Tree Hat (3-260)
Moose Hat (3-260)
Butterfly Hat (2-260, 160)
Dinosaur Hat (3-260)
Cow Face Hat (2-260, 160, SmHrt)
Horse Hat (2-260, 160)
Fishing Pole Hat (2-260, SmHrt)
Fly Hat (3-260, SmRnd)
Elephant 350, 2-260)
Penguin Hat (3-260)
Flamingo Hat (3-260)
Dog Hat (4-260)
Cat Hat (2-260, SmHrt).

Mark uses 260s, 160s, a 350, small hearts and small rounds on this DVD.
In 260s:
Lime Green
Green
White
Black
Blush
Lilac
Teal
Mocha
Coco
Clear
Yellow
Orange
Gray
Yellow
Red
Rose
In 160s he uses black,white,and blush. In small hearts he uses blush and orange. He also uses a green small round and a gray 350.
---
We Also Recommend