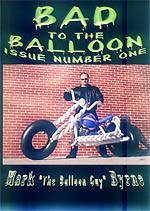 Bad To the Balloon Volume 1 DVD
Make 12 big, fast, easy balloon hats. This DVD is great for beginners with no language barriers. Mark demonstrates what the sculpture should look like when done at full speed then slowly breaks down the elements in the teach-in section. The twist menu goes over every twist and which sculpture it is used in. It is shown at full speed and slowed to 50% speed on the second view. Mark even teaches a speed knot technique.

Working twisters will like the hat designs for line, party or table work where you want to make nice hats, fast. Mark has a good feel for the line of balloons in his designs and he gets a lot out of shaping and drawing on the balloons. I highly recommend this DVD for the working twister.

Mark uses 260s, 160s, small hearts and small rounds on this DVD.
In 260s:
Lime Green
Green
White
Black
Blush
Lilac
Teal
Mocha
Yellow
Orange
Gray
Gold
Yellow
Red
Dark Blue and Pale Blue
In 160s he uses black and in small hearts he uses white. In small rounds its green, clear, yellow smiley, and eyeball.

The figures include:
Shark Hat (2-260)
Dolphin Hat (2-260)
Mermaid Hat (4-260)
Surfer Hat (3-260)
Tiki Hat (260, SmRnd)
Duck Hat (3-260, SmRnd)
Gator Hat (3-260, SmRnd)
One-Eyed Monster Hat (2-260, SmRnd)
Pirate Hat (2-260, SmHrt)
Tower Hat (4-260)
Swan Hat (2-260)
Dragon Hat (5-260, 160).
---
We Also Recommend