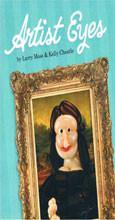 Artist Eyes by Larry Moss & Kelly Cheatle
A light-hearted gallery tour.

It's never too early to teach art appreciation.  This light and airy view of art is an ideal way to introduce kids to the works of the great masters. Eight famous paintings, re-imagined by Larry Moss, are presented in these pages, paired with rhymes containing a hint of art history.
***This is not instructional material***
---
We Also Recommend