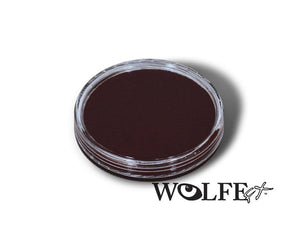 WB Hydrocolor Essentials Cake Bruise -30g
Hydrocolor Make-Up by Wolfe Face Art & FX is a superior product for the professional and beginner artist. These paints have the best coverage and brightest black light colors in the industry, and comes in three different shades - Standard (Essential), neon/black light, and metallix colors.

Hydrocolor is a moist cake that uses very little water - a brush dipped in water is all it takes.  This make-up is one of the easiest to apply, especially for the great coverage you get - one of the best in the industry.

All Wolfe Face Art & FX paints are Hypo-Allergenic - meaning safe and non-toxic.  All their paints wash off with soap and water or Wet Ones Baby Wipes, which makes them very easy to remove.  

All the Hydrocolor cakes come in three different sizes, and for your convenience the 1.58 oz and the 3.17 oz containers screw together for stacking.
Due to the fact that computer monitors are incapable of reproducing colors exactly, the colors shown are only a representation of WB's current color line. The neon/black light colors are much more intense, and the Metallix colors have a metallic shine to them.
 
Colors include: Black (BK); White (WH); Light Brown (LBR); Brown (BR); Red (RE); Pink (PK); Orange (OR); Yellow (YE); Light Green (LGR); Green (GR); Light Blue (LBL); Dark Blue (DBL); Blue (BL); LILAC (LI).
---
We Also Recommend