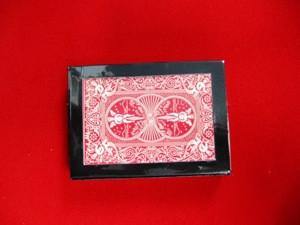 Vanishing Deck
The trick consists of a gimmick hippy-looking box and bicycle deck cards.  It looks great and the handling is pretty easy.  It's good close up magic for table hopping or older birthday parties.

You take the deck out of the box, open it and take out a card.  Once you show the card, you put it back in the deck and back into the box - then the whole deck disappears.
It is jaw dropping!

I liked this trick so much that I wrote a routine for it and will include it with the trick.  My routine leaves the magician trying to put the box away and moving on, he realizes the trick did not work.  The audience, however, is amazed at how the trick "didn't" work.
---
We Also Recommend