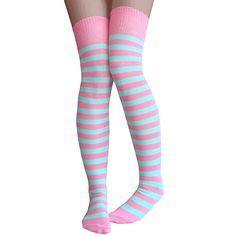 Striped To Toe Knee Hi Socks - Light Pink/Lime Green
Striped, checkered, bright solid socks - you name it, and I'm sure some clown somewhere has that color combination coordinated into their wardrobe.  Socks are an essential part of any clown's costume, just as color combo socks are an essential part of a sports team's uniform.

These long tube socks are 29" from toe to top and are very comfortable to wear.  They come in a wide variety of colored stripe combinations, but if you don't see the colors you are looking for, special orders can be placed with a minimum of 36 pairs.  Special orders usually take 2 to 3 weeks, plus shipping time, so plan accordingly.  All special orders are prepaid and there are no refunds.