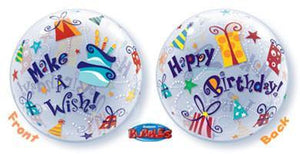 Q Make A Wish Birthday Bubble-1 Count
22"-1 Count
The Qualatex Bubble Balloons are made of see-through, stretchy plastic that never oxidizes.They are available in a wide range of sizes, colors, and designs, and they inflate to a round, wrinkle-free, beach ball-like appearance that actually floats for weeks!  

Qualatex Bubbles are pop resistant, but not pop proof.They can withstand outside pressure changes, however, it is advised not to expose them to extreme heat (exceeding 120 degrees F, 50 degrees C) as this will cause them to burst.

Bubbles are to be inflated with a latex regulator, and come with a pre-attached ribbon.  All Bubble Balloons come packaged with a moisture pack to prevent them from drying out and must be inflated immediately.

Qualatex Bubble Balloons are really a unique new product.There are so many great things that can be done with Bubble Balloons, and their versatility makes them an ideal product for the decorator.Great for indoor or outdoor use, as well as those with latex allergies.  Visit www.qualatexbubbles.com for additional instructions, exciting videos, design ideas, and much more.

Sold individually.
---
We Also Recommend