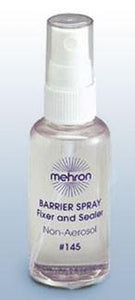 Mehron Barrier Spray - 2 oz.
Mehron's Barrier Spray™ was developed as an under base for 3D Gelatin appliances to increase durability, but these days it's considered a "wonder spray" because it has so many different uses.  Barrier Spray™ is just one more innovation of Mehron, Premier Performance Makeup.

Barrier Spray can be used under makeup to stop sweat and to insulate your skin from harsh elements such as adhesive.It can also be misted on top of finished powder makeup to set and preserve the makeup application, as well as over greasepaint makeup that's been dusted with Mehron's ColorSet Powder.

Comes in a 2 oz Spray Pump Bottle.
Also available in a 1 oz Spray Pump  Bottle or 9 oz Refill Bottle as a special order.
UPS Ground Shipping Only

Related products to check out:

The Proface Barrier Cream (7309) is similar product but made for those with super-sensitive skin who love to entertain but can't wear the makeup.  It creates a barrier between skin products and your skin.Barrier Cream can be used with any kind of face product.

Another related and similar product worth checking out is the 4 oz bottle of ProFace No-Sweat (7205).  No-Sweat works great and also has a wide variety of uses, especially for those bearing the heat and humidity of the South during the summer months! No-Sweat is a liquid anti-perspirant formula spray used under makeup to retard perspiration by approximately 40%. Used under makeup, on the scalp, puppeteers hands, etc.




---
We Also Recommend