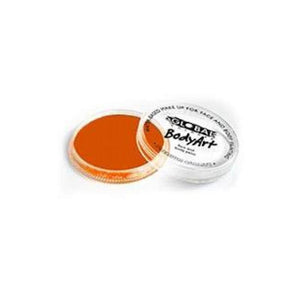 Global Colours Face Paint 32g-Neon Orange
Global Colours face and body paint of Australia, are highly pigmented water based cake make up. Global Colours are opaque in coverage, but blend seamlessly on the skin without cracking or fading. Global Colours are versatile and can be used all over the face and body. The Global range of paints include Neon colors that are black light and UV light reactive and Pearl colors that have an added shimmer pigment. Pearl and Neon colors may tend to apply slightly more sheer than standard colors.
To use: Rub a damp sponge or brush over the surface of the cake until you work up a desired consistency then apply directly to the skin. Global colors can be applied with a brush or sponge and dry within 30 seconds. Global paints remove easily with soap and water. For a longer lasting finish you can apply a fixative spray.