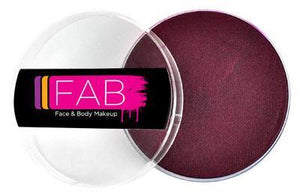 FAB Face & Body Makeup 45g-Plum
Silly Farm presents FAB Professional Face and Body make up. FAB face paint is a superior line of face and body make up excellent for all types of application. FAB is a creamy blend of extreme pigment, smooth consistency, and a great price. The FAB paint line includes over 80 bold colors including shimmer and glitter colors. FAB paints are very similar to Kryolan Aquacolor and Paradise AQ, because they are vibrant and bold and have a creamy consistency. They blend easily, dry within 30 seconds on the skin and dry to a smudge free coverage. They also remove easily with soap and water.
FAB does not need to be "set" with powder. For longest lasting application apply setting spray before and after application. Whether you want to Cosplay as your favorite character, paint at birthday parties or transform a body into living art FAB make up can do it all.
FAB 16gm are professional size and fit into the 20 color palettes- expect 100+ applications
FAB 45gm is our largest size. It fits in the 12 color build your own palette- expect 200+ applications
To Use:
Dip your brush or sponge in water and rub over the surface of the paints until you create a creamy consistency then apply to the face and body.
To Remove:
Use soap and water.
Note: Please be aware FAB Makeup contains a very low, 0.003% fragrance level and is not recommended for use on those with sensitivity to fragrances or perfumes.
---
We Also Recommend