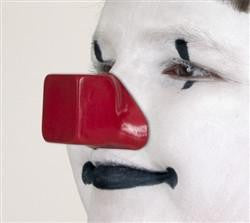 ProKnows Gloss Foam Nose-R (Square)
As a performing clown, the owner of ProKnows understands the needs of the professional clown, and is dedicated to providing the best and safest products for the working clown - professional or not.  None of the ProKNOWS® & ProFACE® products are tested on animals, and all products are environmentally friendly.

ProKNOWS® Noses have a foam interior and shiny exterior. The standard finish is glossy red, but they are available in Auguste w/ airbrushed blush, matte red, assorted optional colors, and glitter, either gumdrop finish or glazed.  If we do not have the style/color/finish you are looking for, we can special order it for you.

It is recommend that you use small sharp scissors to custom fit the contours of your clown nose.

IF WE HAVE DISCONTINUED A PROKNOWS STYLE NOSE THAT YOU WANT, IT CAN STILL BE SPECIAL ORDERED AT THE REGULAR PRICE.
---
We Also Recommend