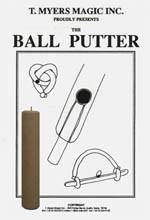 Ball Putter
T's invention makes putting a ball inside a balloon mere child's play. Which, by the way, is what happens when you hand a child a balloon with a ball inside.
This wonderfully simple tool does all the work for you. It no longer matters how long your fingernails are or aren't. Forget trying to break the inside of the balloon without breaking the outside of the balloon. The Ball Putter does it for you! So easy. Once you use it you'll make the 'I-could-have-had-a-V-8' gesture in amazement.
Balloonists of the world - Improve the quality of your life !
---
We Also Recommend