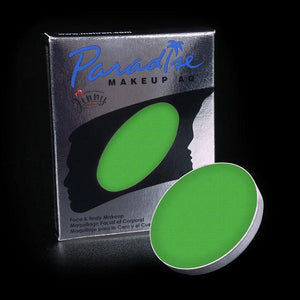 Paradise Palette Refill Single Light Green
Mid 2009, Mehron discontinued and repackaged the Paradise Palette (Double Pack) Refills with Individual refill cups.  We no longer stock the "double pack" Paradise Palette Refills.
The Paradise Makeup AQ is a semi-soft, water activated, moist cake makeup that was co-created with Mehron by Jinny Houle, World Renowned Body Painting Artist, and is what thrust Body Painting into a new dimension with its wide selection of dynamic colors.  Because this makeup is water activated, the hues of the colors can be controlled by the artist.  Professional Body Painters and Face Painters love the ease of application and the ability to fully control the depth of the colors.  Mehron manufactures Paradise Makeup AQ with a color consistency unsurpassed in the world of body makeup.

Mehron's world-famous, premium quality, water based face and body painting product is the preferred choice of award-winning artists around the globe.  It is available in a wide range of richly pigmented, beautiful colors in Basic, Pastel, Tropical & Metallic color choices.  Also available are the empty 8-color or 30-color palettes for the individual size refills, or the empty 12-color palette for the professional full size cups.

Activate Paradise Makeup AQ with a small amount of water. Moisten the sponge or brush and work the surface of the cake into a rich spreadable cream. Some colors require a little more water, some a little less, but a little practice will bring beautiful results.
---
We Also Recommend