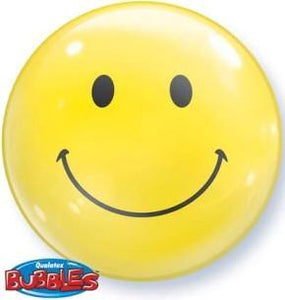 Smiley Face Bubble-1 Count
Qualatex Bubble Balloons are not latex or foil - they are stretchy plastic.These unique balloons range in size from 20" to 24" and float for weeks.They inflate round and feature see-through material with smooth, beach ball-like seams that create an amazing 3D effect.
There's no need to worry about them popping - their flexible plastic keeps on stretching when you inflate them.They also never oxidize and are non-allergenic, so they can be used in hospitals and other latex-free environments.
Includes a pre-attached ribbon. Inflate the balloon with a regular pump until all the seams vanish.
---
We Also Recommend