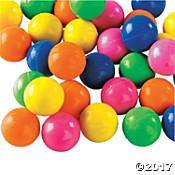 19 mm Neon Balls 144 Count
144 Count Bag
Assorted Neon Colors
Holy bouncing ballistics, Batman! Here it is, the latest twist on balloon sculpture. One of these guys inside a balloon and you have a toy, a kinetic sculpture, a giveaway. Make races, water slides, puzzles, and weebles easily and quickly.
These balls are even better than the "balloon seed" or balloon ball. They're heavier so they roll. They're easier to use and faster, too. And they last long after the balloon is but a memory. That's a whole lot of bounce for your buck!
NOTICE: The 3/4 balls DO NOT fit into the Magic Pipe. However 3/4 is not always 3/4. Sometimes our supplier will send 3/4 balls that are more like 5/8. These WILL fit into the Magic Pipe. So if you want hi-bounce balls that fit into the Magic Pipe you need to ask if we have these small 5/8 balls. They may be neon or they may be glow in the dark.
---
We Also Recommend